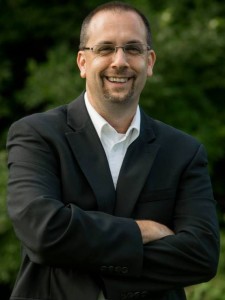 Darren is an ABMDI accredited medicolegal death investigator and an ACFEI certified criminal investigator working  with  Crawford County Missouri Coroner's Office, an author, conference speaker, trainer, and podcast-media producer. He has a tri-balanced background in law enforcement investigations, corporate leadership, and Christian ministry.
Darren is a certified teaching instructor and criminal investigator with over 30 years experience in the field of law enforcement and death investigations. He holds certification as an  instructor for the American College of Forensic Examiners CI program,  Missouri Department of Public Safety, the Missouri Sheriff's Association,  and the Law Enforcement Training Institute – (Missouri University Columbia). Darren is also the lead instructor and facilitator for the Death Investigation Training Academy™, and hosts its online podcast-media program for death investigators.

Career Timeline
1986-1990  US Army Military Police
1991-1993 Franklin County Missouri Sheriff's Office
1993 – 2013  Crawford County Missouri Sheriff's Office
1998- Present  Crawford County Missouri Coroner's Office
2013 – Present Cuba Missouri Police Department
Education and Certifications 
Class A – Missouri Law Enforcement Certification

East Centeral College – Union, Mo.

 

Criminal Justice

Accredited D-ABMDI –

American Board of Medicolegal Death Investigators

Certified Criminal Investigator

 

– American College of Forensic Examiners

Principles of Fire Investigation – University of Missouri

Certified CVSA examiner

Advance Interview and Interrogations training – and instructor

Certified Jail Procedures and Administration through

 

MSA
Certified by Missouri S.T.A.T

 

in

 

Child Death Investigations

Certified in Child Sexual Assault Investigations

Crime Scene

 

Investigator

Advanced Investigation School

Certified

 

in under water search & rescue and scene preservation

Missouri Department of Public Safety P.O.S.T Certified Instructor

Missouri Sheriff's Association Instructor

Missouri LETI Instructor

Past President Missouri Medical Examiner Coroner Association.

Hundreds of hours training in Patrol and Criminal Procedures.

Has personally investigated and consulted in

 

thousands of death investigations
Affiliations 
Missouri Sheriff's Association   MSA
Missouri Coroner and Medical Examiner Association  (MCMEA)
The American Board of Medicolegal Death Investigators (ABMDI)
American College of Forensic Examiners Institute  (ACFEI)
International Association  of Coroners and Medical Examiner
Toastmaster International
Church of God, TN – Credentialed
Most Requested Speaking Topics
Reference Statements 

 "in developing a criminal investigation division for our department, there was no question you were the one to lead it. You have accomplished this task in an efficient an exemplary  manner"  Major Jim Squires Retired 

"Darren is a dynamic and charismatic instructor, he holds the classrooms attention, encourages and draws in participation from attendees successfully.  I would personally recommend Darren as an instructor/speaker to any organization" Sgt. Jessie Venable, Retired  Franklin County Missouri – Conference Coordinator MDSA 

"I personally give my recommendation to Darren Dake. Darren is highly skilled in the area of organization, management, team building, and facilitating staff needs and training. Darren possess' a quality of leadership needed today. His teaching style is relevant to today's issues , keeping participants alert and able to benefit for the topic being taught."  Roger Taber – 

"Darren, your efforts and information were an integral part of our conference, and we greatly appreciate your contribution . I am happy to let you know that your presentation at the conference was well received and given high marks. I very much enjoyed working with you and look forward to doing so again in the future. " Jen Howe – Conference Coordinator, Colorado Coroner Association  
Publications 

Autoerotic Fatalities – A guide to investigating and interpreting the scene 
This work is comprised of real information investigators can use to interpret a scene of a suspected autoerotic death. Full of information needed, yet purposefully lacking long explanations of research and controlled studies. You will find careful descriptions to help determine what these deaths are — and what they are not. The investigator will be equipped with the necessary skills to properly investigate this type of death.Autoerotic death investigations are rare, and knowledge comes from two sources; experience and education. Where you may lack experience with actual scenes, knowledge can be gained through education and research. My intention through this work is to give the investigator, regardless of experience or education level, the tools needed to properly interpret these scenes.
Interview and Interrogation – Getting Information you want 
This book is specifically designed with police officers, investigators, and coroners in mind. Gathering information from potential witnesses, family, and medical staff is vital in police and coroner investigations. Most law enforcement officers get a small amount of this training in basic academy and then learn as they go from actual case work. This on-the-job approach does refine skills, but if the skills are flawed or underdeveloped to begin with, the flaws just get worse. Another vital area of communication is the suspect interrogation. A successful interrogation must be well planned, and investigator attitudes must be right from the start. Suspects will shut down and lawyer up fast when they are disrespected or frightened. This book will systematically walk the student through the process of gathering vital information from anyone who may have knowledge.