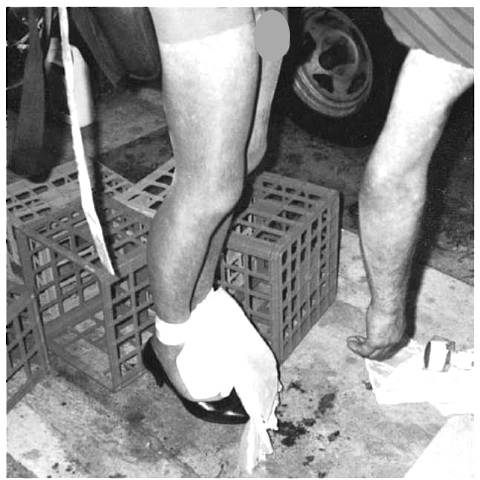 Autoerotic deaths are accidental deaths that occur during solitary sexual activity in which some type of apparatus that was used to enhance the sexual stimulation of the deceased caused the unintentional death.
These deaths are accidental, they are not suicides as some have thought. The practitioner does not intend to die as a result of this activity, but instead, dies as a result of an overdoes of asphyxiation or a failure in the mechanism of pleasure induced by the victim.
Autoerotic deaths come in many forms and are not just from an asphyxial hanging, although asphyxia is the most common.
These deaths can also occur as a result of:
Ligature Compression of the Neck
Airway Obstruction
Chest Compression
Chemicals or Gases
Electrical Stimulation
Foreign Body Insert into Penis or Anus
By its very definition these acts are solitary. Some have proposed that when an accidental death occurs during a sexual act between two people, where the airway was obstructed or blood flow was restricted during the sexual act, should be considered an autoerotic death. However, those deaths may be accidental but not autoerotic. Auto is defined as self, one's own, or by oneself. Although monoerotic might be a better description, auto is still the appropriate terminology.
In terms of the type of apparatus used. Some mechanism; whether ligature, mechanical, or manual has to be in use as a way to enhance the sexual stimulation and arousal of the practitioner.
Some investigators find it hard to believe that these acts are in any way sexually gratifying. This practice is very much a paraphilia act, and performed by a very slim majority of the population. It is important however to keep in mind that there are three general sources of sexual pleasure.
1. Stimulation of the genital organs .
2. Lack of oxygen to the central nervous system.

3. The creation of a fear and anguish atmosphere.
Generally when a person first starts engaging in these acts, asphyxia or other mechanism are used in combination with masturbation or sexual intercourse. However, intercourse would rule out autoerotic by definition, but over time the need to masturbate will decrease and the asphyxia itself becomes the sexual activity.
It is important to understand that the evidence of masturbation during the fatal event is not mandatory . Quite the opposite actually, it is rare to find such evidence. It is common for the practitioner to use autoerotic stimulation as a means of sexual arousal and then masturbate to climax after having gained an erection and efficient arousal. A form of foreplay, if you will.
Autoerotic fatalities are classified as two types; typical and atypical. Typical deaths means they fit into a set of predetermined standards of accidental deaths as it relates to victimology, method, paraphilia and history. Atypical deaths do not meet these criteria. We will further explore these classifications in later chapters when victimology is addressed..
Lastly, in defining autoerotic deaths you must keep in mind that these are unintentional deaths – not suicide. But exercise extreme caution; you must rule these cases based upon the probability of available evidence.An accurate cause of death is crucial, a point of discussion later in this book. But better to rule a death suicide when a couple of scene features exist, while absolute facts cannot support a definitive
If someone dies during an autoerotic act, or sexual stimulation, as a result of heart attack, stoke, arrhythmia, etc., it is not an autoerotic death. Natural causes must be ruled
Sex and sexual activity can take a toll on the body; changing heart rate, blood pressure, respiration, and adrenaline levels. Strenuous activity can be a common cause for heart attacks and strokes.
Remember, an autoerotic death must result in accidental death caused from the apparatus used to increase sexual pleasure. If a person dies as the result of a heart attack during the act of normal masturbation, normal meaning without the use of any aids other than one's hand, the cause of death would be heart attack. The autoerotic factor would never come into play. The same would be true regardless of dress, activity, or scene features present. Further, if someone dies during a sexual game with a partner, that may very well be an accident, but by its very definition cannot be ruled autoerotic in nature because there was no intent of a solitary act.
Case example. A man in his mid 60's was found by his wife sitting in a chair wearing only women's shoes and a bra. A vacuum cleaner was nearby and in operation. The man's penis was still inside the vacuum hose as it was apparent he was using it to aid in his masturbation. The medical examiner found the cause of death to be heart attack. So even though some of the scene features present are common with autoerotic deaths, and it was obvious that autoerotic activity was taking place, this was a natural causes death because the apparatus used, vacuum cleaner, did not cause the death due to a malfunction of its intended use for sexual pleasure.