Podcast: Play in new window | Download | Embed
Subscribe: Apple Podcasts | Android | RSS | More
Have you ever had to do a removal from a tight space or crowded house.  Cots wont' fit and back boards get heavy.  In this episode I introduce you to a better way. 
The WauK® board is lighter and narrower than standard cots. With a 500‑pound capacity, this lightweight 30‑pound tool gives funeral directors and coroners a new way to remove the deceased with dignity and respect. Instead of dragging the deceased to a cot, place a WauK® board directly next to the deceased and respectfully "log roll" them on to the WauK® board. The process is easier on the funeral director's body and is more tactful in the presence of loved ones.
The WauK® board is the only removal device that allows either one or two people to lift and then roll a decedent during removal. Quick disconnect handles make it easy to move the deceased into an upright position and maneuver around corners, down stairs, through tight spaces. Sturdy wheels smoothly handle deep pile carpet. And, an extra handle in the large footrest gives an assistant an easy way to help navigate down stairs, over bumps, and into the service vehicle.
Once in the service vehicle, WauK® board's handles function as a brake. The entire board is impervious to bodily fluids and can easily be cleaned/decontaminated.
Coroners, Medical Examiner Investigators, Police, and Forensic students. This hybrid course looks at death investigation from a combined perspective of law enforcement and medicolegal death investigations.
MLDI online Academy is a Nationally Accredited online training designed to teach all aspects of death investigation and scene management. Unlike any other coroner training today,  this course offers a blended learning style combining online self-paced video training, along with opportunities for live interaction with instructors several times throughout the program, and a unique private Facebook group open only to students of Coroner School™ where everyone can interact and ask questions.
MLDI online Academy is a six-week guided course with certified instructors. However, at the end of the six weeks, you still have access to all videos, downloadable material, and the private Facebook group. You can return to the online school anytime to finish up the courses or as a refresher in certain topic areas.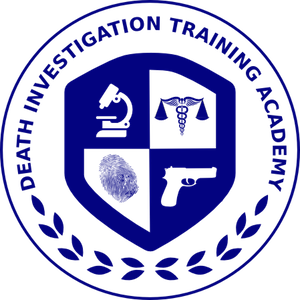 The Death Investigation Training Academy was founded to play an integral role in the death investigation community.  The need for quality accredited training is in short supply and high demand. Using a combination of classroom training, live on site scenario exercises,  and web-based training, the Death Investigation Training Academy is filling the need of 21st-century investigators.