Podcast: Play in new window | Download | Embed
Subscribe: Apple Podcasts | Android | RSS | More
Torso found in 2004 along I-70 is identified as Southwestern Illinois prostitute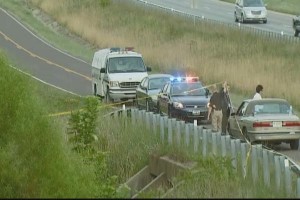 A decapitated torso found in 2004 has been identified as a metro-east prostitute who was only recently declared missing by her family.
The headless, handless and legless female torso found June 28, 2004, by a maintenance worker trimming brush at an interstate rest stop was identified on March 10 as Deanna D. Howland, 35, of Alton. She also lived in Granite City and East St. Louis.
"It's important that we now have an ID on the body," said Madison County Sheriff John Lakin. "For 12 years she was unidentified … We're hoping that by releasing certain information today, it will generate more leads into the ongoing investigation and hopefully we can come to a successful conclusion into what is a very brutal murder."
Howland was estranged from her family at the time of her disappearance, and was known as a prostitute and drug addict. It was not uncommon for her to be out of touch with the family for extended periods of time, according to investigators.
"That's part of why it took so long for her to be reported missing," said Major Jeff Connor with the Madison County Sheriff's Department. "She led a transient life … She would come and go; they would see her and then not see her for a while."
Family members gave DNA samples that were compared to DNA preserved from the torso that had been discovered at an I-70 rest stop near Wright City, Mo. in Warren County in 2004. The Major Case Squad of Greater St. Louis had been activated at the time and investigated for several weeks, but little progress was made without identification of the body.
In the years since the body was found, the Major Case Squad has been activated a second and third time to re-evaluate the case and process new leads and information. Since that time, the case has been an open cold-case homicide with the Warren County Sheriff's Department.
In late 2014, Lieutenant Matt Schmutz of the Warren County Sheriff's Department requested authorization to take over local follow-up on the investigation to add a fresh perspective. At that time, leads consisted of tracking missing persons that matched the general criteria of the torso case. In early 2015, Schmutz began communicating with a Madison County Sheriff's detective regarding Howland, who had been last seen in the spring of 2004.
The DNA samples were tested at the Missouri State Highway Patrol Lab from one of Howland's siblings. In early 2016, the lab reported the initial test showed similarities, but would require additional samples from other family members for confirmation. Samples were obtained from additional potential family members and sent to the lab for analysis.
On March 10, 2016, the Warren County Sheriff Department received a lab report confirming that the torso was indeed Howland, who would have been 35 at the time of her death. That confirmation reactivated the Major Case Squad, and investigators from both Missouri and Illinois are currently investigating the case. The public release of information was initially delayed to give investigators time to develop preliminary background information on the victim and any known associates.
PROSECUTORS DECLINED TO COMMENT FURTHER ON HOW HOWLAND DIED OR SPECIFICS OF HER FINAL DAYS. SHE WAS KNOWN TO FREQUENT GRANITE CITY AND EAST ST. LOUIS, AND HAD ALSO BEEN KNOWN BY THE LAST NAMES OF HER FORMER HUSBANDS: FROEHLICH, KINNEAR AND BARKER.
Howland had been married three times, and bore at least one child. Further details of her life were not released by investigators, and they declined to comment further on how she died or specifics of her final days. She was known to frequent Granite City and East St. Louis, and had also been known by the last names Froehlich, Kinnear and Barker, due to her marriages. She had a number of minor felony charges, mostly stemming from possession of marijuana and other controlled substances, bad checks or prostitution.
Connor said there are a number of challenges in investigating a 12-year-old murder case, and they are hopeful someone will come forward with information that could lead them to solve Howland's murder.
Anyone with any knowledge of Howland or any possible circumstances surrounding her disappearance are encouraged to call the Warren County Sheriff's Department at 636-456-4332, the Madison County Illinois Sheriff's Department at 618-692-0871, or the St. Louis Regional Crime Stoppers Hotline at 1-866-371-8477.
Read More
 http://www.bnd.com/news/local/crime/article67521482.html#storylink=cpy
---


coroner,police training, darren dake,sheriff,deputy,coroner association,murder scenes,auto fatalities,csi,first responders,autoerotic fatalities,become a coroner,forensic science crime scene investigation,forensic science crime,scene investigator,forensic training,forensics training,how to be a crime scene investigator,how to become a death investigator,how to become a medical examiner,how to become a medical examiner investigator,medical examiner investigator training,medical investigator training,medicolegal death,medicolegal death investigator training,murder scenes,pictures of murder scenes,murder,real murder crime scenes,traffic deaths,traffic fatalities,what does it take to be a coroner,what does it take to be a criminal investigator,firefighter,fire training,firefighter training,autoerotic fatalities,become a coroner,coroner information,crime scene clean up training,crime scene cleaning training,crime scene cleanup training,crime scene investigation,crime scene investigation classes,crime scene investigator courses,crime scene investigator school,crime scene jobs,crime scene photography,crime scene photography training,crime scene technician,crime scene technician training,crime scene training,criminal investigation,criminal investigator,criminal justice,criminal justice forensic science,criminal justice forensics,criminal scene investigation,death crime scenes,death investigation training,death investigator training,death investigators,forensic death investigator,forensic investigator,forensic photography, crime scene clean up,crime scene bio-hazard, using plants in criminal investigation,forensic botany,dr.jane bock,death investigator magazine,dr judy melinek,badge of life,american college of forensic examiners,acfei,american board of medicolegal death investigators,abmdi,matthew lunn,underwater crime scene,mike berry,online learning