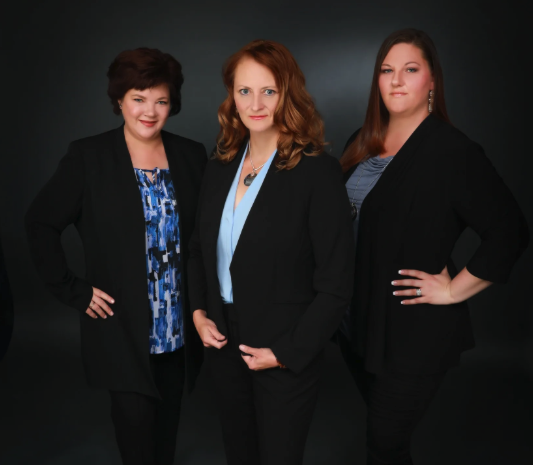 I this episode I have a conversation with Dr. Suzan Entwistle, DO, C-MDI about how she has combined her education and experience as a trauma surgeon and death investigation to help families get answers about how their loved one died.
Many times families are left with more questions than answers and the "system" in many states are resistant to the idea of open communication with families of a deceased.
Dr. Entwistle and her team provide many answers to families and attorneys as described below.
---
For attorneys and other professionals, Plan B Forensics will provide a comprehensive picture of what happened to the victim. For families, we are you. We've been where you've been. The way we have processed our tragedies is to understand as much as possible what happened to our loved ones. We cannot change the outcome, we cannot undo what was done. But we are a collective voice for the victim and an advocate for the survivors. In memoriam. For closure, for peace. For all of us.
We put the whole story together for you to gain an accurate picture of how things went wrong and a life ended. We don't guess, make assumptions or chase theories. We're not on anyone's side but the victim and truth. We start with the most important evidence and the best witness, the body. If a scenario does not match the injuries the victim sustained, then it's wrong, so we start at the source and work our way out in an enlarging spiral. Dr. Entwistle's extensive background and training in trauma surgery make it likely that she's seen these injuries before a fatality occurred and understands the mechanism required both before and after death — a more comprehensive picture than a pathologist can give you. She was the real deal, "lifey-deathy" surgeon, for military and civilians, and will review medical records with the precision required in the operating room. Her certification as a medicolegal death investigator enables her to evaluate not just postmortem injuries but the process by which the death investigation was done. Ms. Turpen, a DNA Scientist and Evidence Analyst, will look at all the evidence collected and see avenues for further exploration.
---
.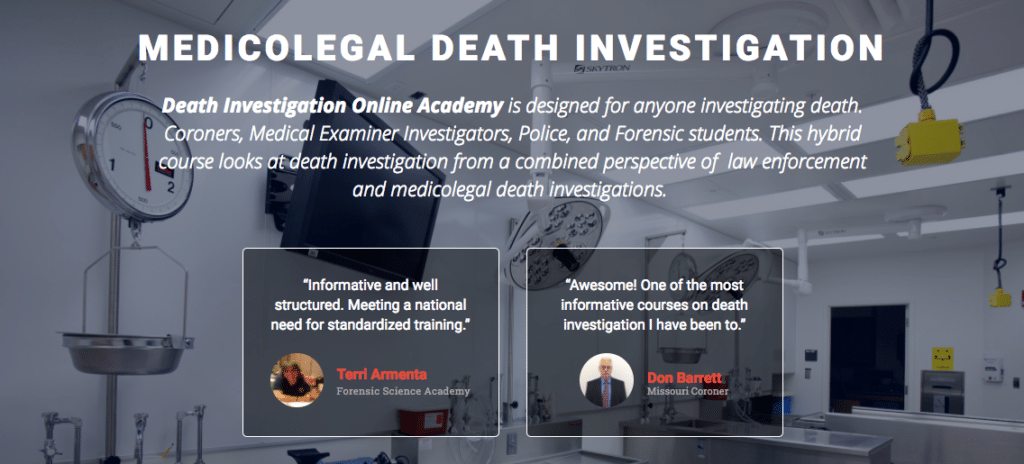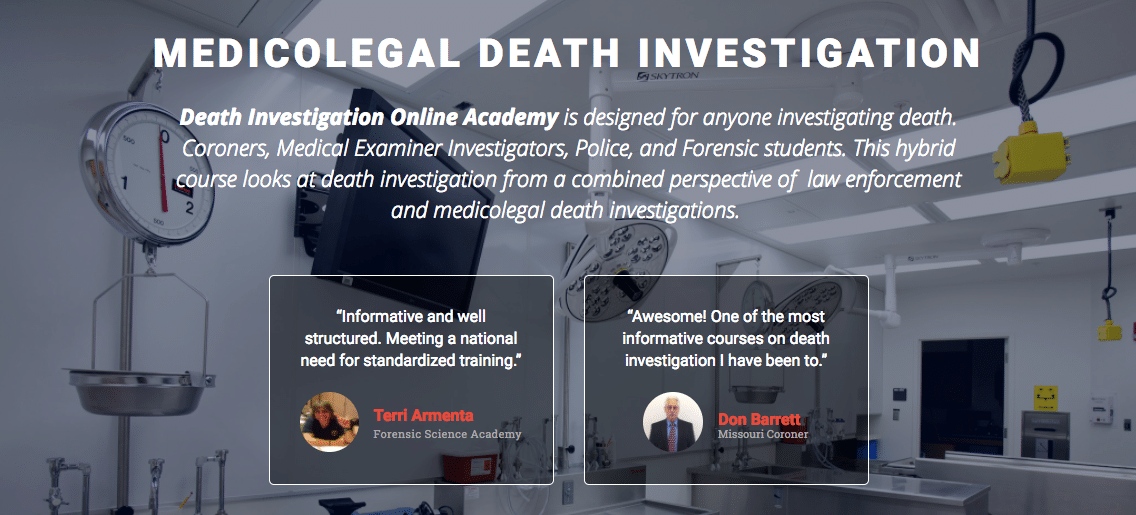 Coroners, Medical Examiner Investigators, Police, and Forensic students. This hybrid course looks at death investigation from a combined perspective of law enforcement and medicolegal death investigations.
MLDI online Academy is a Nationally Accredited online training designed to teach all aspects of death investigation and scene management. Unlike any other coroner training today, this course offers a blended learning style combining online self-paced video training, along with opportunities for live interaction with instructors several times throughout the program, and a unique private Facebook group open only to students of Coroner School™ where everyone can interact and ask questions.
MLDI online Academy is a six-week guided course with certified instructors. However, at the end of the six weeks, you still have access to all videos, downloadable material, and the private Facebook group. You can return to the online school anytime to finish up the courses or as a refresher in certain topic areas.
---
Medicolegal Death Investigation Scene Kit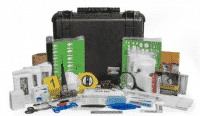 This exclusive first of its kind Medicolegal Death Investigation (MLDI) kit contains all the items you need to document and collect evidence from the most important piece of evidence at any death scene – The Body. Designed for Coroners, Medical Examiner Investigators, and anyone responsible to investigate and process a death.
This kit is equipped to collect fragile evidence such as DNA and fibers, take post-mortem temperatures, document the scene through photography and sketching, as well as properly collect transport, and store material evidence.
This MLDI Kit can be used in large agencies for multiple MDI's or one single kit for smaller agencies. Packaged in a sturdy Pelican carry case with custom dividers and a pocketed pouch system. Built strong to withstand the demands from scene to scene.
Click HERE for more information


---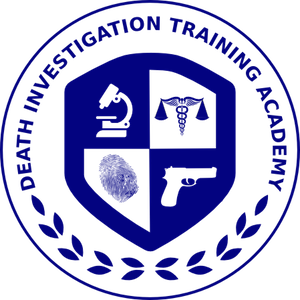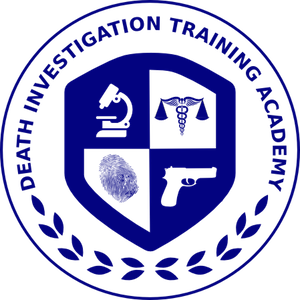 The Death Investigation Training Academy was founded to play an integral role in the death investigation community. The need for quality accredited training is in short supply and high demand. Using a combination of classroom training, live on site scenario exercises, and web-based training, the Death Investigation Training Academy is filling the need of 21st-century investigators.