Podcast: Play in new window | Download | Embed
Subscribe: Apple Podcasts | Android | RSS | More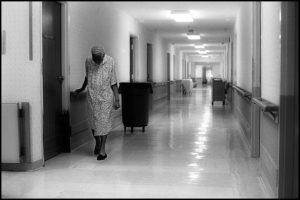 Nursing home residents comprise a large and rapidly growing segment of the national population. Despite this fact, the majority of deaths occurring in nursing homes are not investigated because of the significant medical illnesses suffered by most residents.  In some deaths, there could be an attempted concealment of the cause and manner of death. Fearing criminal or civil proceedings, nursing home personnel may attempt to conceal homicidal or accidental deaths in nursing home residents.
Because of the serious, chronic illnesses suffered by these patients, attending physicians are often willing to sign death certificates without personally investigating the circumstances surrounding the patient's demise. Attending physicians and death investigators should be urged to investigate more fully sudden deaths in nursing home patients.
Are We Missing Anything?
Many jurisdictions around the country  will do little more than gather basic information over the phone, and if correct answers are given by the nursing home staff, then C/ME office's  release jurisdiction and simply allow the attending doctor to sign the death certificate.  But are we missing anything?  Is it possible that accidents, or even homicide deaths,  are going unreported and un-investigated.  Hospice deaths fall into this category as well and in most C/ME jurisdictions they are handled in the same manner as nursing home deaths.
Logistics
I know as well as anyone what budget restrictions are like. If we adopted a policy that investigator eyes had to be one every nursing home / hospice death within our jurisdiction we would run into a nearly impossible task, simply from a man power standpoint. How then would be correct the problem excpt by hiring additional staff?  But with lack of money, and C/ME office are always the last to be funded, how is that possible.
The Answer
Actually, I  do not have an answer. In this episode of the podcast I talk with an expert in case review about these topics.  I hope that even though I have no answer as to the logistical boundaries,  we do make progress in the understanding of the need.


---

March 2017   Register Now to save big on course fee.  Click the image to learn more….
---


site tags
coroner,police training, darren dake,sheriff,deputy,coroner association,murder scenes,auto fatalities,csi,first responders,autoerotic fatalities,become a coroner,forensic science crime scene investigation,forensic science crime,scene investigator,forensic training,forensics training,how to be a crime scene investigator,how to become a death investigator,how to become a medical examiner,how to become a medical examiner investigator,medical examiner investigator training,medical investigator training,medicolegal death,medicolegal death investigator training,murder scenes,pictures of murder scenes,murder,real murder crime scenes,traffic deaths,traffic fatalities,what does it take to be a coroner,what does it take to be a criminal investigator,firefighter,fire training,firefighter training,autoerotic fatalities,become a coroner,coroner information,crime scene clean up training,crime scene cleaning training,crime scene cleanup training,crime scene investigation,crime scene investigation classes,crime scene investigator courses,crime scene investigator school,crime scene jobs,crime scene photography,crime scene photography training,crime scene technician,crime scene technician training,crime scene training,criminal investigation,criminal investigator,criminal justice,criminal justice forensic science,criminal justice forensics,criminal scene investigation,death crime scenes,death investigation training,death investigator training,death investigators,forensic death investigator,forensic investigator,forensic photography, crime scene clean up,crime scene bio-hazard, using plants in criminal investigation,forensic botany,dr.jane bock,death investigator magazine,dr judy melinek,badge of life,american college of forensic examiners,acfei,american board of medicolegal death investigators,abmdi,matthew lunn,underwater crime scene,mike berry,online learning,lopa,cultural diversity,anger de-escalation