"Our medicolegal death investigators are 50 percent detectives and the other 50 percent of the job they're social workers. In one minute they're investigating a horrific homicide and the next minute they're notifying the family members of the victim of that homicide. The family may be embracing them and crying on their shoulder. It takes a very unique group of people to be able to flip that switch." – John Fudenberg – Las Vegas Coroner.
John Fudenberg, is the Coroner of  Clark County Nevada, home to the world known  'sin city', Las Vegas. The Clark County Coroners office is a hybrid office, being a coroners  office but housing a full pathology department.  Currently there are two Coroner Investigative Forensic Supervisors, 16 full-time Coroner Investigators and five part-time investigators that respond throughout the Las Vegas valley. There are also three part-time investigators that handle the southern portion of Clark County, which encompasses the Laughlin and Searchlight areas, and three part-time investigators that handle the northern County region.
Clark County is also unique in that John Fudenberg is the immediate past President of the International Coroners and Medical Examiners Association, and still sits on that board.  Also the chief Medicolegal investigator for Clark County, David Mills, is the immediate past President of   The American Board of Medicolegal Death Investigators.  (ABMDI).  These prestigious positions placed Clark County Coroners office in a position of authority when it comes to speaking into the medicolegal death investigation field.
Part Time and Reserve Investigators
Another unique function os the Clark County Coroners office is their volunteer reserve program for investigators.  These men and women join the office and complete a training program to prepare them to work with full time investigators and serve as a 'farm team' for filling future  investigator openings .
---
In this episode
In this episode I talk with the 'Las Vegas' Coroner John Fudenberg and Assistant Coroner Paul Parker about the unique positioning of their office.  We also talk about the  recommendations for the medicolegal field by 2020, as well as where John sees the future of Coroners in America  going.   These and many other topics are discussed.
---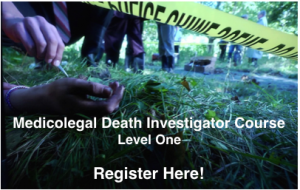 ---


coroner,police training, darren dake,sheriff,deputy,coroner association,murder scenes,auto fatalities,csi,first responders,autoerotic fatalities,become a coroner,forensic science crime scene investigation,forensic science crime,scene investigator,forensic training,forensics training,how to be a crime scene investigator,how to become a death investigator,how to become a medical examiner,how to become a medical examiner investigator,medical examiner investigator training,medical investigator training,medicolegal death,medicolegal death investigator training,murder scenes,pictures of murder scenes,murder,real murder crime scenes,traffic deaths,traffic fatalities,what does it take to be a coroner,what does it take to be a criminal investigator,firefighter,fire training,firefighter training,autoerotic fatalities,become a coroner,coroner information,crime scene clean up training,crime scene cleaning training,crime scene cleanup training,crime scene investigation,crime scene investigation classes,crime scene investigator courses,crime scene investigator school,crime scene jobs,crime scene photography,crime scene photography training,crime scene technician,crime scene technician training,crime scene training,criminal investigation,criminal investigator,criminal justice,criminal justice forensic science,criminal justice forensics,criminal scene investigation,death crime scenes,death investigation training,death investigator training,death investigators,forensic death investigator,forensic investigator,forensic photography, crime scene clean up,crime scene bio-hazard, using plants in criminal investigation,forensic botany,dr.jane bock,death investigator magazine,dr judy melinek,badge of life,american college of forensic examiners,acfei,american board of medicolegal death investigators,abmdi,matthew lunn,underwater crime scene,mike berry,online learning,lopa,cultural diversity,anger de-escalation