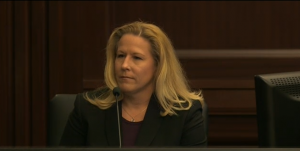 Karen L. Smith earned her undergraduate degree in Criminal Justice from the University of North Florida (Magna Cum Laude) and her Master's Degree in Pharmacy with a concentration in Forensic Science from the University of Florida.
Karen spent nearly 14 years as a police officer and detective at the Jacksonville Sheriff's Office in Florida. She served as both a major case detective for nearly 11 years and as training coordinator for 3 years, conducting nearly 500 death investigations and 20,000 cases during her term with JSO. She designed and instructed courses in all aspects of crime scene field work including basic crime scene response, casting techniques, latent print development and recovery, bloodstain pattern analysis, alternate light source applications, laser trajectory reconstruction, chemical blood enhancement, photography, laser mapping techniques and scientific methodology.

She moved to Knoxville, TN after being hired as the Training Consultant for the National Forensic Academy at the University of Tennessee. While at UT, she had the distinct privilege of working with Dr. Bill Bass, Dr. Arpad Vass, Dr. Murray Marks, Dr. Steven Symes and many more distinguished field experts She was instrumental in helping develop the NFA Bone Yard, a new forensic facility dedicated to anthropological studies at the UT Arboretum in Oak Ridge, Tennessee.
Karen now serves as the Director of Forensic Education at the CSI Academy of Florida in partnership with the University of Florida. She instructs classes in Crime Scene Management, Bloodstain Pattern Analysis, Photography and Alternate Light Source Application. She serves as Adjunct Faculty at the University of Florida, instructing graduate courses Principles of Forensic Science and Crime Scene Laboratory, which she co-authored.
Current research and experimentation includes the effects of contextual and confirmation bias in forensic investigations with an emphasis on bloodstain pattern analysis, which is being conducted in collaboration with Dr. Itiel Dror of University College London, and the efficacy of luminol and BlueStar applications on a 51 year-old cold case investigation.
Bare Bones Consulting, LLC is an independent contracting company, offering crime scene and cold case analysis, bloodstain pattern analysis and crime scene reconstruction services as well as Instruction of various crime scene courses.
Karen has access to a large cadre of experts in various forensic fields if her specific areas of expertise cannot benefit your case.
"Wherever he steps, whatever he touches, whatever he leaves, even unconsciously, will serve as a silent witness against him. Not only his fingerprints or his footprints, but his hair, the fibers from his clothes, the glass he breaks, the tool mark he leaves, the paint he scratches, the blood or semen he deposits or collects. All of these and more, bear mute witness against him. This is evidence that does not forget. It is not confused by the excitement of the moment. It is not absent because human witnesses are. It is factual evidence. Physical evidence cannot be wrong, it cannot perjure itself, it cannot be wholly absent. Only human failure to find it, study and understand it, can diminish its value."         ~Dr. Paul Kirk on Locard's Exchange Principle