Podcast: Play in new window | Download | Embed
Subscribe: Apple Podcasts | Android | RSS | More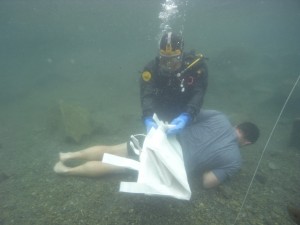 Underwater crime scenes present a unique set of obstacles not present in dry land situations.  Many agencies do not have the personnel to conduct adequate underwater investigations. These scene must be worked as dry land scenes in areas of scene control, evidence integrity and collection, chain of custody, and management.  However, these investigators must add additional skills to work in harsh conditions not known to dry land investigators.  Plus, evidence integrity must be maintained in unique ways differing from dry land collection techniques.
Every underwater recovery, be it victim or evidentiary in nature has a high potential of involving a criminal investigation. In fact, underwater criminal investigations is the most active part of public safety diving. So, having highly trained Underwater Criminal Investigators poised and ready to meet today's challenges has never been so important.
Underwater criminal investigations requires a special breed of public safety diver. Men and women who can not only handle the stresses of working in harsh and unforgiving environments but who can respond as trained professional divers who are an extension of the criminal investigative team. These capabilities and services are essential for today's public safety agencies.
Core Underwater Recovery
Bodies
Vehicles
Evidence
When a body goes into the water, or when  a drowning victim reaches the point of death, five phases of motion exists with the body.  The phases can be altered somewhat by water conditions and environmental conditions, but will always take place in a specific order.
5 Phases of Motion
Settling  to the bottom
Movement along the bottom
Assent to surface
Movement along the surface
Final Descent
---
Episode Guest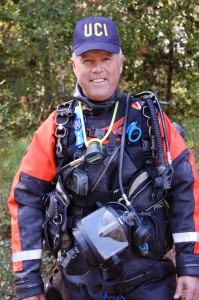 Mike Berry is one of the world's leading trainers and authorities in Public Safety Diving and specializes in teaching others how to succeed and survive in this ever demanding and challenging profession. Mike is recognized internationally as a Master Underwater Criminal Investigator and one of the most experienced Public Safety Divers/Underwater Criminal Investigators in the world with 35+ years of active service. PADI, the world's largest dive training agency has not only awarded him this title but has certified him as a Master Underwater Criminal Investigator Instructor based on his years of experience and his contributions to the profession of Public Safety Diving.
Mike has been a Trooper with the Virginia State Police for over 35 years. He served 12 years on the road as a road Trooper, 10 years at the Virginia State Police Training Academy as an Academy Sergeant/Instructor and is currently the VSP's full-time SAR Coordinator. He is a Graduate of the FBI National Academy and has been an active member of his department's search and recovery team his entire career.
Underwater Criminal Investigators (UCI)
UCI (Undwater Criminal Investigators®) was founded in 1987 in order to provide professional public safety diving/law enforcement training to the world's public safety
diving community. Our goal is to mold the students into true professional public safety divers and investigators who specialize in the underwater environment.
UCI believes that in order to teach others how to conduct any Public Safety Diving technique, be it rescue or law enforcement related, the instruction must be based on experience. What you'll find is that many courses being offered today are  developed and taught by individuals who lack this essential ingredient. This is what sets UCI apart.


Coroner  Talk™
Listener Comment and Question Line:  573-677-4004
---


coroner,police training, darren dake,sheriff,deputy,coroner association,murder scenes,auto fatalities,csi,first responders,autoerotic fatalities,become a coroner,forensic science crime scene investigation,forensic science crime,scene investigator,forensic training,forensics training,how to be a crime scene investigator,how to become a death investigator,how to become a medical examiner,how to become a medical examiner investigator,medical examiner investigator training,medical investigator training,medicolegal death,medicolegal death investigator training,murder scenes,pictures of murder scenes,murder,real murder crime scenes,traffic deaths,traffic fatalities,what does it take to be a coroner,what does it take to be a criminal investigator,firefighter,fire training,firefighter training,autoerotic fatalities,become a coroner,coroner information,crime scene clean up training,crime scene cleaning training,crime scene cleanup training,crime scene investigation,crime scene investigation classes,crime scene investigator courses,crime scene investigator school,crime scene jobs,crime scene photography,crime scene photography training,crime scene technician,crime scene technician training,crime scene training,criminal investigation,criminal investigator,criminal justice,criminal justice forensic science,criminal justice forensics,criminal scene investigation,death crime scenes,death investigation training,death investigator training,death investigators,forensic death investigator,forensic investigator,forensic photography, crime scene clean up,crime scene bio-hazard, using plants in criminal investigation,forensic botany,dr.jane bock,death investigator magazine,dr judy melinek,badge of life,american college of forensic examiners,acfei,american board of medicolegal death investigators,abmdi,matthew lunn,underwater crime scene,mike berry