Podcast: Play in new window | Download | Embed
Subscribe: Apple Podcasts | Android | RSS | More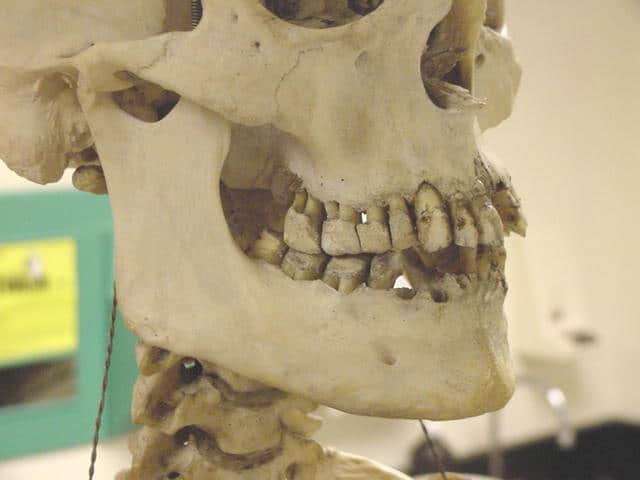 Forensic odontology is the application of dental science to legal investigations, primarily involving the identification of the offender by comparing dental records to a bite mark left on the victim or at the scene, or identification of human remains based on dental records. A forensic dentist is an informal title for a forensic odontologist, a medical professional who is trained in odontology, a branch of forensic science.
Dental Identification
Before you call a FO, make sure you can get antemortem dental records.  If you call a FO and they do a report, but you find no antemortem records, you have to pay for the report, but you have not gotten any closer to an ID. They don't have to be dental records.  Medical radiographs with the teeth in them can be used.
If their family does not know who the antemortem dentist is:
Check their toothbrush. A lot of dentists have their name and number on the toothbrushes.
You can also check with their employer and dental insurance company. If they used their dental insurance, they will have the treating dentist's information.
It they were in the military, check the VA hospital for dental records
Military Records Depository
900 Paige Blvd
St. Louis, MO 63115
When contacting the antemortem dentist, request ALL of the ORIGINAL records.  Original is important for charting which is often color coded.  It is also important for X-rays as copies are not as clear as original X-rays.  The antemortem should copy all of the chart for their records and keep the copy.  The originals should be sent to the coroner/medical examiner's office.
Some dentists are not aware that the Health Insurance Portability and Accountability Act (HIPAA) states that dental office not only can but should release needed records to coroner or medical examiner offices.  (45 CFR)
If the dental records are digital, that is excellent, as those records will the same as the original.  If you are able, forward them to the FO before they come to your office so if they have any other questions about the records, they can be handled before they come for the dental identification.
Age Estimation
In unidentified decedents that are children, they best way to determine their age range is by the teeth.
Once all of the baby teeth are lost, if the wisdom teeth are present they can be evaluated to see how formed they are to determine an age range.
In adults, there are some techniques to determine age, but the range is so large, it may not be as useful as anthropology.
Bite Marks
If you see an oval shaped pattern on a decedent, it is best to have a FO evaluate it. Photograph the area before the FO gets there to document how it looked before the FO evaluation. Swab the area to be tested for DNA and salivary amylase.
---


Dr. Denise Murmann, DDS, D-ABFO
Naperville, IL
Email:   DMurmann@abfo.org
Denise C. Murmann, DDS, DABFO practices general dentistry in Naperville and River Forest, IL. She graduated from the University of Illinois at Chicago School of Dentistry in 1992, 50 years after her maternal grandfather. She became a Diplomate of the American Board of Forensic Odontology in 2011. She has been a member of Disaster Mortuary Operational Response Team (DMORT) Region V since 1999. In her role with DMORT she has been deployed as a part of the 9/11 World Trade Center Dental Identification Team and to assist after Hurricane Katrina. Dr. Murmann has been a member of the Cook County Medical Examiner's Disaster Response Team since 2002. She has served as a consultant in forensic odontology for Kane Co, Kendall Co, and Will Co, IL, and is on the NDIR Review Panel. In 2004 she participated in the year-long Fellowship in Forensic Odontology at the Center for Education and Research in Forensics (CERF) through the University of Texas Health Science Center at San Antonio. The resultant research project, "A Comparison of Animal Jaws and Bite Mark Patterns," was presented at the Annual Meeting of the American Academy of Forensic Sciences (AAFS) in 2005 and published in the Journal of Forensic Sciences in July 2006. Dr. Murmann is a Member and Past President of the American Society of Forensic Odontology (ASFO), a Fellow of the American Academy of Forensic Sciences (AAFS), and a Member of the Academy of General Dentistry (AGD).
---


Main Site Tags
coroner,police training, darren dake,sheriff,deputy,coroner association,murder scenes,auto fatalities,csi,first responders,autoerotic fatalities,become a coroner,forensic science crime scene investigation,forensic science crime,scene investigator,forensic training,forensics training,how to be a crime scene investigator,how to become a death investigator,how to become a medical examiner,how to become a medical examiner investigator,medical examiner investigator training,medical investigator training,medicolegal death,medicolegal death investigator training,murder scenes,pictures of murder scenes,murder,real murder crime scenes,traffic deaths,traffic fatalities,what does it take to be a coroner,what does it take to be a criminal investigator,firefighter,fire training,firefighter training,autoerotic fatalities,become a coroner,coroner information,crime scene clean up training,crime scene cleaning training,crime scene cleanup training,crime scene investigation,crime scene investigation classes,crime scene investigator courses,crime scene investigator school,crime scene jobs,crime scene photography,crime scene photography training,crime scene technician,crime scene technician training,crime scene training,criminal investigation,criminal investigator,criminal justice,criminal justice forensic science,criminal justice forensics,criminal scene investigation,death crime scenes,death investigation training,death investigator training,death investigators,forensic death investigator,forensic investigator,forensic photography, crime scene clean up,crime scene bio-hazard, using plants in criminal investigation,forensic botany,dr.jane bock,death investigator magazine,dr judy melinek,badge of life,american college of forensic examiners,acfei,american board of medicolegal death investigators,abmdi,matthew lunn,underwater crime scene,mike berry,online learning,lopa,cultural diversity,anger de-escalation